Touchless Automatic Car Wash
Star Wash is located on the corner with the used cars sales and car rental office and is open 24/7 year-round. It is a touchless car wash and utilizes completely new-state-of-the-art equipment which results in an incredibly clean car. Being an open concept touchless wash, you don't have to worry about any damage during the wash process. Star Wash features a rocker panel and undercar blasters to remove all the salt and brine that rusts and corrodes your car, a Simonize Carnauba wax to protect the finish, four large air-drying blowers, and a fun light show experience.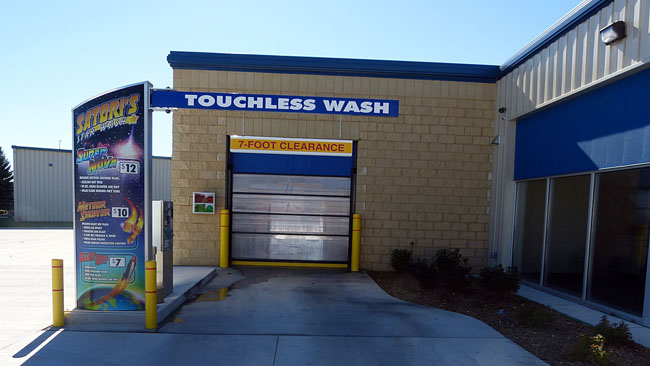 Blast Off $7
Foam Bath

High Pressure Wash

Spot Free Rinse

60 sec. quad blower dry
Meteor Shower $10
Includes BLAST OFF plus:
Under Car Spray

Thruster Side Blast

2-Step Hot Pre-Soak & Wash

Triple Foam Polish

Teflon Surface Protective Coating
Super Nova $12
Includes METEOR SHOWER plus:
Sizzling Hot Wax

90 Sec. Quad Blower Air Dry

Solar Flare During Dry Time
We will continue to offer our professional detailing services to those who still prefer it.
What Our Customers Are Saying…
"Satori's Auto Service is a wonderful company! It's very fair and does excellent work. I've always received very attentive, communicative service from them and I regularly recommend them to others. They're incredibly professional and very friendly and I really couldn't be happier with them. They also have the best car wash in town! No competition! Perfect ratings!!"
Wash / Wax / Buffing / Interior
Exterior Wash- $40.00
Enjoy a professional grade exterior hand wash with vehicle safe soap, using only the best wash mitts. The wash is followed by a hand dry with an industry leading squeegee and quality shammy, so you know your vehicle won't have any water spots.
Exterior Wash & Wax- $99.98
This service includes everything in the Exterior Wash plus a hand wax with our premium wax, not only to create a dazzling gloss for your vehicle but to also seal and protect your paint and shield it from industrial fallout, acid rain, rail dust, bird droppings, tree sap, and most kinds of chemical attack.
Exterior Wash, Wax, & Machine Polish- $199.99
If you want a show quality exterior, this is the package for you! This includes everything in the Exterior Wash and Wax plus a machine polish to remove any small scratches and to revitalize the vibrant color on your vehicle.
Interior Cleaning- $60.00
We vacuum the entire interior of the vehicle, wipe down the dash and consoles, and clean the trim and windows on the vehicle.
Interior Detailing- $360.00
You'll think you just drove a new vehicle off the lot for the first time after we're done with our interior detailing. This service includes everything in the Interior Cleaning, plus the use of a steam cleaner designed for vehicles to remove dirt and other debris from any cloth seats, carpeting and floor mats. We also go through every knob, nook and cranny to make sure the vehicle's interior is cleaned from inch to inch.
Complete Detailing Package- $520.00
If you want show quality inside and out, you can choose our complete package which includes all our cleaning services: A Professional Exterior Wash, Hand Wax, Machine Polish, Interior Cleaning, and an Interior Detailing.
***Prices may vary depending on size and condition of your vehicle. ***